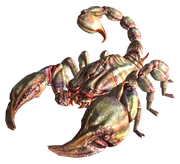 Vault'un açıldığı vadide yakın sayılabilecek tek yükseltidir. Büyük
birkaç mağara vardır. İçeride çok sayısda Radscorpion olduğu bilinmektedir.
Karanlık Yeniden - Zaman Çizgisi  T+27'de de mağara derinlerine gidip gördükleri tüm radscorpionları bir grup Wasteland Dweller haklamıştır. Bölgede hala çok sayıda radscorpion bulunsa da en büyük mağara geçici bir süre bu yaratıklardan temizlenmiştir.
T+71'de mağaralardan bir tanesi kalıcı olarak Vault'un dış üssü haline getirildi. Duygusal bir yaklaşımla "Ev" ismi verildi.
Ad blocker interference detected!
Wikia is a free-to-use site that makes money from advertising. We have a modified experience for viewers using ad blockers

Wikia is not accessible if you've made further modifications. Remove the custom ad blocker rule(s) and the page will load as expected.